Volunteer of the Year Award
The DMAW Volunteer of the Year Award recognizes individuals whose long-term involvement with the DMAW and unselfish contributions of time, thought, leadership, and action have significantly advanced the growth and development of the DMAW and its impact within the direct marketing community.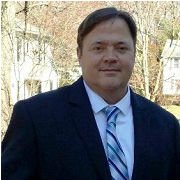 Congratulations to our 2018 Award Recipient:
Stephen Godbout
President & Founder
Copybygod
With a specialty in storytelling, Stephen Godbout is a multidimensional copywriter with proven results-driven skills that have benefited international, national and local non-profits, businesses and associations for nearly 20 years. In that time, Stephen's writing has earned him over 50 international and national awards from the Direct Marketing Association of Washington, the Direct Marketing Fundraisers Association and the Direct Marketing Association.
For Stephen, volunteering is second nature. He's been active in local community activities since the early 80s, from the first steps of what is now the Walk & 5k to End HIV … to walks for the Cystic Fibrosis Foundation and Samaritan Ministries … to DJing at nursing homes … to organizing and hosting an annual Thanksgiving dinner for homeless families at Macdara's Grille … to serving on the Board of the DMFA … to helping out with the Bridge Conference … to writing industry blogs and leading continuing education sessions … to co-emceeing DMAW's very own MAXI Awards, as well as serving as a judge and writing the award's show script … and serving as an Accolate and Eucharistic Minister at his church, Stephen is always quick to raise his hand and say, "How can I help?"
He's the youngest of 13 children and likes to tell people, "he has the therapy bills to prove it." His mother was Miss Rhode Island in 1936. In the 1960s and 70s, his father helped shape the air cargo industry we all rely on today to ship our mail, premiums and packages around the country.
Stephen's favorite movies are "Steel Magnolias," "Momma Mia" (All of Them), and "P.S I Love You." He's a fan of most every kind of music from alternative to disco to country and big band. When he's not busy volunteering or earning a living, you can find him meditating, walking with his dog Sebastian or hanging out with family and friends, which of course, includes his famously Irish husband Mac.
Previous Volunteer of the Year Award Recipients
2009: Geoff Peters
2001: Greg Albright
2000: Chris Gleason
1999: John Nusbaum
1998: Debbie Angel
1997: Neil Griffin & Deb Tompkins
1996: Tom Veazey
1995: Elise Buck